Time for Moyes to bite the bullet an sell Lescott. As much as I wanted him to stay and it would have been nice to finally see a manager stand up and say fuck off to player power, its just not realistic anymore. He tried and tried well but he has to accept defeat. I say defeat lightly though because if he can get 25 mill in a package of cash and players then I think its excellent business. Not going to come on here and say he's shit, I want him to go anyway etc because he's not. He's 27, English, scores goals, and is consistent in terms of appearance. He does however have a tendency to make a mistake. The amount of times Jags pulled him out the shit last season was unbelievable. He gets left by the top class strikers and the cup final was a perfect example of this, he just couldn't contain drogba at all. Jags is the main man at the back for us and I just hope he comes back stronger than before his injury. We need at least 4 new faces and the rumour on the street here is , 18 mill and dunne for lescott, then buy Stephen Taylor from Newcastle and moutihno from Portugal, along with the Swedish midfielder rassmus elm now if he pulls off them signings then I think it could be a decent season. The start doesn't worry me, if anything getting tonked 6-1 at home by arsenal is better than getting beat 1-0 as it highlights the problems that moyes will have to deal with, lets face it when you CH tells the boss 10 mins before the game he doesn't wanna play as he is not focused, then what else dya expect to happen when the team goes on the pitch. Something dramatic needs to happen in terms of a "reaction" and am sure it will. Last season we lost our 1st 3 home games, Wigan, Blackburn an Portsmouth yet we finished 5th and made the cup final, so it's a marathon not a sprint. People still forget our 3 best players are out an when we get jags, arteta and the yak back it will be like 3 new signings. I think Chelsea look uber strong and I can see anyone getting near them so they're my tip for the league and under ancelloti it could be their year in the champs league to, definitely 1 of the 2
Poker has been a bit non existent lately on the playing front, playing for fun really but I have put a lot of volume in terms of studying. I bust my stars roll by playing with out BRM as stated in me last post. Won about $600 on FT and withdrew it because I am going to Vegas in 6 weeks so needed some money for that. Still waiting for this staking deal to start but I had to be brutally honest with myself and say I am just not ready for that. I am not far off but needed to study more. The studying is going well learning new things and reading plenty of archived and new posts on 2+2. I need to buy cardrunners which I will be doing and will probs watch every streets SNG video on there. He's a sicko. Also
www.sngnick.com
is up an running so check it out if you haven't seen it. Its Nick Rainey's site an he's a sicko when it comes to MTTSNG's,. Wouldn't mind 10 days in his boot camp.
I bought sharkscope and found some very interesting facts on myself and the way I have been playing. It fairness I needed something like this, its not nice seeing that you're a losing player but something you have to do in order to improve obviously. I did find one game that I am a winner at which was nice and it was the $6/$16 18 man turbos on stars.Another good thing is I am a winner since starting the blog and a lot of my losses are from when I was a clueless idiot and had not even learned the game before playing it. The fact I am a loser at $3.40 18 manners makers me wonder how this is possible. I just hate playing micro stakes poker. You are basically playing no fold em hold em against clueless dickeads who type 'ajajajajaaja' or 'hahaahaah' or 'weeeeeeeeeey' every time there pocket deuces bust your rockets after flopping quads, it tilts me no end an there is just too much variance playing at that level. Also the fact that win rate is so small makes you about as happy as losing a £100 and finding a quid. You sit there for 5 hours 6 tabling and make a about $0.50 a game for a profit of $50 over a 100 games and 8 hours lol. So I am going to wait til I have $1600 dollars spare an take a proper shot at the $16 18 manners and couple that with the staking deal on VC w/ rakeback then things do look good for the coming months. Its just a case of getting this extra bit of training an coaching. I am by no means giving up. a little experiment on the $16 18 man turbos, threw this up. Obvs 125 games is not a big enough sample, but its a start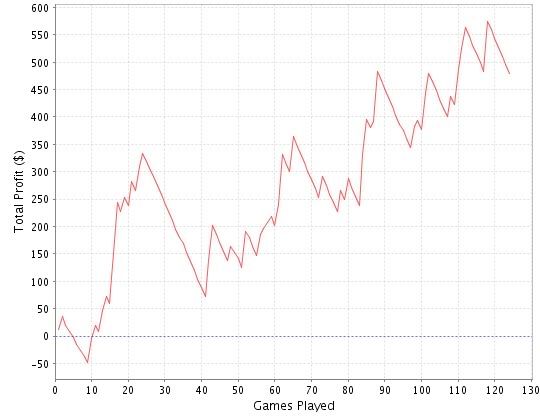 gl fish!
leave you with this! $22/5k on stars 950 runners, 50 off the money!